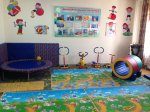 Financial participation of Saby Charitable Foundation enabled building and complete equipment of Kyzylorda childrenís home. Although it exists for 5 years, the foundation treats all requests for help from employees and children of this establishment with especial care.

With onset of summer, all Kyzylorda population starts to get ready for abnormal and steady heat. At times, the mercury rises to 50 degrees. In order to make childrenís stay in the childrenís home more comfortable a need of air conditioners to be installed in the events hall arose. We quickly addressed the request and soon the rooms will be equipped with new air conditioners. Moreover, rubber mats and fitted carpet were bought for therapeutic physical training room.

You will find a photo report here.
---
¬ŚūŪůڣ١ ŪŗÁŗš