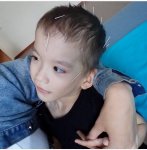 The charity Found "Saby" recently allocated funds in the amount of 400 000 tenge for Zhumartov Chingiz, who suffers from infantile cerebral paralysis. The financial aid is directed to the course of complex rehabilitation in the clinic of Dr. Fu located in the city of Astana.

Chingiz was born on September 26, 2011, which was much prematurely. Immediately after his birth the child was brought to neonatal resuscitation department; 2 cerebral hemorrhages, no lung opening, as well as vast hematomas gave rise to assigning a degree of disability already in the first year of life. At the moment Chingiz cannot move without assistance, chew and hold toys in his hands, but despite this he has no convulsions and no contraindications to rehabilitation exercises.

We strongly hope that the course of treatment will have a beneficial effect on the health of Chingiz and believe that he will come into his own soon.

---
Вернуться назад