Views: 562 | 14-10-2015 | "Orkendeu" Project » The High-school for 1200 places at the Almaty cit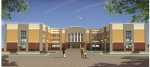 "Saby" Charitable Foundation within the framework of "Orkendeu" project has started the construction of one more major project – Secondary school for 1200 places on the fixed land parcel located to the west from Akzhar village of Nauryzbai district of Almaty city.

This project is realized under the concluded agreement with the Akimat of Almaty city, according to which the Foundation undertakes to build a school upon the project provided by the Akimat at its own account, following which the Foundation will donate to the city the school on a free-of-charge basis.

By now, the design and estimate documentation on the state order is fully prepared. Favorable conclusion of the state expert appraisal was received.

According to the working project, the school building will be located on the land parcel of 3,0026 ha in area and will include ten two- and three-storey blocks with basement level, total area of buildings – 11 625 sq.m.

Dressing rooms for junior school, offices for Deputy Principal, rooms for technical staff and accounting office are placed on the 1st block.
Sports hall, security office and events hall for 360 seats are situated on the 2nd block.
Sports hall, public fund of library, closed fund of library and multimedia library are specified on the 3rd block.
more »»