Views: 719 | 06-11-2012 | Educational project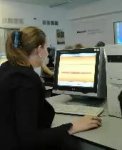 Recently, the first stage of professional testing, which is organized by our Foundation twice a year in October and February, for foster children of Almaty boarding schools, pupils of 9 and 11 forms, has finished. This year, the number of participants has reached 72 people.

Becoming older and getting closer to the Farewell Bell, which means school graduation, children realize the importance of the right choice of profession, which will open for them doors to an independent adult world and help to struggle for a place in the sun. Often many young people dream only about a high-paid job, but during study they already begin to doubt their choice of profession, after gaining a diploma they ask themselves how to find a job, because no one is waiting for them in the world of severe competition.
more »»