Views: 572 | 04-09-2015 | Alem – support of young talents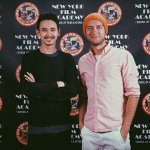 What happens behind the scene of the young director from Kazakhstan? How could his fortune shape if he did not receive the grant from "Saby" Foundation? We will not tell fortunes, let just read fascinating story of Medet Shayakhmetov, a happy man, who was the first, who paved the path to the USA for other "Alem" participants. (punctuation and orthography are preserved)

continued in Russian



Достижения Медета Шаяхметова за 12 месяцев



Если брать год как за 12 месяцев, то в августе 2014 года, в нашей академии было задание снять музыкальный клип. Так как когда я был в Нью Йорке, ко мне приезжал известный на территории СНГ рэпер Big Som и мы решили снять ему клип на его легендарную композицию "Дай мяч" которую он написал еще в далеком 2003 году, по сути это было приурочено к юбилею композиции. Но так как не было достаточно времени, мы приостановили и отложили проект и вот в конце августе прошлого года, я возобновил съемки воспользовавшись заданием и доснял всю сюжетную линию. Так как я был ответственен за весь творческий и технический процесс музыкального видео включая пост продакшн, это заняло у меня несколько месяцев, и в начале 2015 года на телеканалах СНГ прошла премьера клипа. Работа получила хорошие отзывы от слушателей как старых так и новых. Клип облетел всевозможные музыкальные сайты и группы в соц сетях.
more »»