Views: 380 | 06-04-2016 | Educational project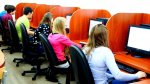 "It's luck when a person has the possibility to choose specialty not out of necessity, but following his mental inclinations"




Ali Apsheroni



The 2nd stage of professional testing, which "Saby" Foundation holds for fosterlings of Almaty boarding schools annually, has been completed recently. Usually this stage is held in February, but this time testing was postponed to March because of administrative reasons of the educational center.

Fortunately, the delay did not affect the receipt of necessary results. 49 school leavers, who demonstrated desire to check their preferences and conformity to future professional occupation, responded questions of the computer program, developed by Lomonosov Moscow State University, for more than an hour. The fact that many personal professional preferences coincided with the testing recommendations is gladdened.

Now it remains only to follow personal plans of individual development and necessary skills formation, prepared for every student, as well as to improve knowledge of subjects, which will be included in the Unified National Testing, necessary for confident university entrance by chosen specialty.
more »»