Views: 313 | 08-08-2016 | Alem – support of young talents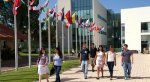 "Saby" Charitable Foundation within the framework of the "Alem" Young Talents Support Program has allocated educational grants to the best five school-leavers of Nazarbayev Intellectual School of Almaty city for education in Efi Arazi School of Computer Science, the bachelor degree in the field of computer science of Interdisciplinary Center of Herzliya, Israel.

It is difficult to enter this school: the applicants passed serious multistage selection. As the result, Madina Kashaganova, Aruay Berdikulova, Zhandos Bulatov, Diana Zheksenbekova and Alexey Semenov are among the first students, who will start their education in early September, the duration 3 years.

IDC Herzliya – one of the most prestigious educational institutions of Israel and is famous for its unique methods and teaching methods of information technologies at a high international level, it graduates highly professional IT specialists.

"Saby" Foundation admits the expenses for education, flight to the point of destination and back, travel, accommodation, feeding, medical insurance, visa fee, contributions in the student union for the whole period of education of the "Famous 5".
more »»