Views: 361 | 15-12-2016 | news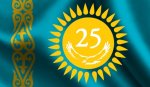 Over 25 years of its independence, Kazakhstan has passed the hard way, proving to the world community its viability as a great country and a great nation.
25 years of independence is a period of growing trust between the Kazakhstan people and the state and its leader, devotion to the place where you were born, the desire to grow by themselves and raise children in a developing multinational country.

Now Kazakhstan people are proud to say that they live in a peaceful and stable country that constantly is overcoming new milestones to provide the better life for its citizens.
This year we celebrate 25 years of Independence of the Republic of Kazakhstan and all in one enter a new bright period of our country's growth.

Charity Foundation "Saby" congratulates all Kazakhstanis on this important for a country holiday and wishes prosperity, solidarity and confidence in the future to all the people of Kazakhstan!

more »»