Views: 1139 | 16-01-2014 | The streets of southern capital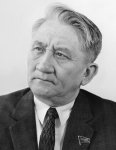 Since 1986 one of the Almaty streets, which is situated on the west from Navoi street and on the north from the First President's Park of the Republic of Kazakhstan, was named after Gabiden Mustafin.

Mustafin Gabiden (1902–1985)

Famous Kazakh theorist of literature Takhavi Akhtanov named Gabiden Mustafin "The writer of newborn people". The word "revival" conforms not only social and cultural shifts which took place in the Kazakh society, it gave us the pleiad of unique and original talents, Gabiden Mustafin belonged to the same pleiad. "Powerful wave of spontaneous people's talents flushed, fading art of nomads, already covered by ash, sparked off as the bright flame".

Gabiden Mustafin, people's writer of the Republic of Kazakhstan, was born on November 26, 1902 in a modest family of a herdsman, he spent his childhood in the overgrown with caragana locality, called Sartobe, at the bottom of Zhauyr-Tau mountain ( presently Telmanovsky district of Karaganda region). The name of this place is translated in the Russian language as "yellow bald mountain". The most cheerful impression of his childhood was the rapid and wayward Nura steppe river.

From thousand-verst vastness surrounding steppes his small native land was notable only for the Spassky copper plant, which attracted the inquisitive boy's attention.
more »»