Views: 734 | 03-05-2011 | Alem – support of young talents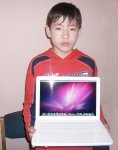 A surprisingly athletic and strong-willed boy from Semei, 14-year-old Anuar suffering from a serious illness and having the second disability group has applied for the "Alem" Programme of support of young talents organized by the "Saby" Foundation.

Anuar is enthusiastically engaged in drawing and modelling, and his favourite subjects are math and physics. And he succeeds in this work. Unfortunately, due to a severe illness the boy has to learn at home, and he really wants to communicate with the outside world to find new friends and share his creativity with them.
more »»