New House for the Child Care Center
14-06-2012 13:54 | "Orkendeu" Project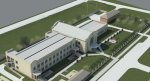 Dear Friends!

We express our cordial gratitude to all the philanthropists who shared their resources and donated money means for the realization of the Project for the erection of a new building for the Child Care Center in Kyzylorda town, under the direction of Saby Foundation.

It will be a double-level modern and comfortable construction with premises, furniture and processing facilities conforming to all construction regulations, with the area of over 1,700 square meters. The general layout includes an external infrastructure: children's pavilions, household and technological constructions and green plantings.

Additionally, small nurslings will be granted by the Foundation with the room equipped by Montessori materials for earlier development under a widely-spread and recognized system and Ksil playground for open-air classes. A stream fountain with pebble bars will create micro-climate during hot summer days.

The idea of a new building construction was conceived from the state of failure of the present one. However, the goals of such a large-scale project are significantly higher: we aspire to create for kids the living conditions close to family life, favorable for physical and psychological health and personal enhancement as well.

Also, the organization employees require appropriate conditions for pedagogic and speech therapeutic works, directed to the socialization of children in the process of their stay in the Child Care Center and their restitution to their biological family or arrangement of a family upbringing type.

If you are interested or eager to help, please write us or call!

Our account.

Please see the scheme building design here.