Regions Are Waiting For New Sports Facilities
18-07-2012 11:49 | Sport-Health-Achievement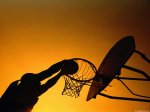 Summer is traditionally the time for the implementing of Saby Charitable Foundation's Project 'Sport-Health-Achievement'. This summer will be marked by the construction of four objects in children's social institutions of Semey, Temirtau, Kyzylorda and Algi cities in Aktyubinsk region.

We will report about the construction of playing courts in the west of Kazakhstan later, for now we would like to share the progress of work on sports facilities installation in Semipalatinsk and Temirtau correctional boarding schools.

Over 120 fosterlings live and study in the boarding school of the metallurgist's city. Young athletes take an active part in city, regional, republic and international contests for children with disabilities and regularly please their supporters with winning places. The sportsmen's potential is also high but the lack of a simply equipped gym limits the children preventing them from training in full force.

Although the auxiliary boarding school in Semey City has a gym, it has become so dilapidated since the school opening in 1969 that it meets neither the sanitation rules nor safety requirements.

Multifunctional sports grounds constructed by our Foundation have their own long-standing, maybe even 'brand' appearance, and provide the possibility of playing minifootball, basketball and volleyball. Their construction in the territory of social institutions will enable to conduct outdoor physical education classes, organize contests, contribute to children's and teenagers' health strengthening and give them an impulse to new sports achievements.

The facilities are to be commissioned by the beginning of the new school year.

Follow our news.