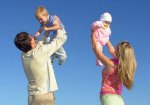 Probably, many people know the feeling when working week starting only on Monday morning ends already by Friday evening. Time is so fast that sometimes when trying to catch it we lose sight of simple things but at the same moment such important things and ordinary miracle is left unnoticed.

One sweeping day a woman with her wonderful daughter sat in a crowded bus.The little girl's cheerful babbling and rolling laughter brightened all around; passengers melted by her sagacity and smartness. The little girl's face seemed to be very familiar and her smile was remembered quickly. It was Dilnaz. Recently the articles about the little girl, her parents and how the family got to know about their single daughter's disease, and the most important thing, about the victory over disease thanks to several successful surgical operations financed from the special account, which accumulates the contributions of philanthropists, were published on the site of DOM Foundation (www.detdom.kz), a partner of Saby Charitable Foundation with "Give Life to Children" Campaign. Now Dilnaz fells well, her parents are joyful of her achievements, all sufferings were left behind as a frightening dream.

Five years ago Asel Tasmagambetova, President of Saby Charitable Foundation and Aruzhan Sain, Director of Mercy Volunteer Society put into realization the scale project of charitable contributions by means of SMS for treatment of Kazakhstan children, imagined the following picture: healthy children and happy parents.

By the present time, at the expenses transferred by you, our friends, 436 operations have been paid, 375 children have received assistance. Total amount of contributions constituted USD 2, 568, 842. Is this not a miracle, for the sake of which it's worthwhile to stand only for a minute and to think, maybe to participate in its realization and to run easily farther?

In order that such sunny moments in life would be more often, subscribers of ACTIV, KCELL and BEELINE may help to save little children by means of SMS messages, sending '1' or a wish to brief number 8099, the sum in the amount of 280 tenge will be charged off the balance of a mobile telephone in favor of a nice little person.