27-02-2013 15:00 | Save the children's life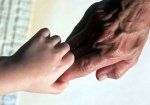 Fund raising for foreign treatment of Kazakhstan children, who suffer from diseases which are untreatable in Kazakhstan, continues.

'Give Life To Children' joint campaign of DOM Foundation and Saby Foundation was started in 2007 and is not limited in time.

During this period by means of SMS 2,642,616 USD have been raised, 376 children have secured assistance.

From year to year the situation in the sphere of health care in our country works out for the best. Issuance of state quotas has become more effective and transparent. Many diseases, which formerly required applying for foreign clinics, now, are successfully treated in our country.

Nevertheless, the quantity of children, who need urgent help from foreign doctors, are still great. The fact that the quantity of people, who are ready to help children is not a few, is very pathetic.

We express our sincere gratitude to all not indifferent people and remind that by means of SMS sending with 1 number from your telephone to 8099 number you will transfer 280 KZT on the special account of 'Give Life To Children' Campaign.