Sport Project – Do Not Stop at the Achieved Level
24-04-2013 14:03 | Sport-Health-Achievement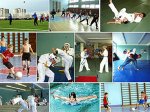 In 2013 Sport Project of Saby Charitable Foundation plans to become a record project according to the quantity of constructed objects, the amount of expended sums and the term of works execution. Foster children from 4 social educational institutions of Kazakhstan will be granted with new sport buildings by the beginning of academic year already.

Three of the objects will be constructed in East Kazakhstan Region: multifunctional playgrounds for football, basketball and volleyball are planned to be built in one of the orphanages and in one of the boarding schools of Semey city. Also 'Ksil' Children Playground will be constructed in this city. People of Semey were very active in managing of the cooperation with Saby Foundation. Timely appeals to the Head of our organization, distribution of requests for construction and patient expectation have led to the long-awaited results.

The fourth object will supplement athletic equipment of Almaty city. A modern sports hall will be built and equipped in one of the secondary schools of the city. Involvement of highly proficient experts to the project development and construction works execution will allow to build the object which will become a significant point on the map of sport architecture of the south capital.

So, the 11th anniversary of Saby will be marked by perfect results in Sport Project: 30 sport objects for 20 children from social institutions of 10 cities of Kazakhstan will be built by our Foundation.