Which Names Streets of Almaty Are Called After
16-01-2014 14:48 | The streets of southern capital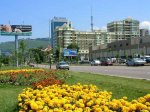 Let's admit that most of citizens of Almaty and, moreover, guests of the south capital, in view of their busyness and rapid rhythm, rarely think of the names of streets where they move daily.

People drive or walk, hurry or promenade, paying no attention to the names entitled to streets, alleyways, avenues and squares. In fact the names belong to distinguished persons who deserved the estimable place in the memory of generations.

Opening the column "The streets of southern capital", we want to tell or remind all readers of our website about the persons, who left an imprint on the history of Almaty and Kazakhstan by their remarkable life.