11-09-2014 12:33 | Gifts of the Foundation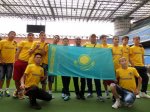 Recently 15 foster children from the regional orphanage №1 who had been awarded with the vacation package for the win in open football championship among foster children in Kazakhstan came back from Italy. Prior their trip they applied to the Fund 'Sabee' with request to devote necessary funds for their pocket expenses.

We decided that we must help children who were into luck to travel to one of the most beautiful cities of the world. Owing to this help young sportsmen were able to see the famous football stadium 'Giuseppe Meazza', they met famous football players, visited museums and architectural monuments and, of course, they enjoyed quite enough in local aqua-park, which was wonderful termination of summer holiday. The travel was complete and very interesting.

Once more we congratulate all children, participated in the championship, and wish them further wins in sport!