One More Town 'Conquered' by 'Alem'
19-01-2015 15:16 | Alem – support of young talents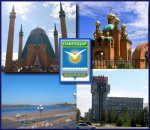 Fireworks died down and the New Year holidays ended. On the first day of training the employees of the 'Saby' Foundation went to schools in Pavlodar. The main purpose of this trip was to disseminate information about the 'Alem' Young Talents Support Program.

Pupils and teachers were explained to the conditions of the Project. For them such a charity is a novelty, it has caused great interest and at times skepticism too. The very few of Kazakhstan charity foundations provide educational grants and probably just only employees of 'Saby' travel around the country in search of talented youth.

However Pavlodar region is rich for talented people, many famous personalities of Kazakhstan are natives of the region. So we hope that a large influx of applications from intelligent and gifted children to participate in 'Alem' Program will be from these places.