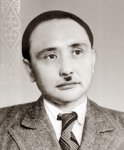 There is a small street in Almaty about 1 km long, located to the east of the Esentai river, begins from the Timiryazev street (link to an article about Timiryazev street) and crosses just 2 streets - Popov and Al-Farabi. It is named after the Kazakh Soviet writer, playwright, doctor, scientist - Zein Shashkin.

Zein Shashkin (1912 - 1966 yrs.) - A man with a difficult life like many of his contemporaries. During his lifetime he was called the "Kazakh Chekhov": he had medical education and as a Practicing Physician he graduated from the Moscow Institute of History, Philosophy and Literature, and continued "medical" line in the literature after Chekhov, Veresaev, Bulgakov, Conan Doyle.
He was secretary of the Komsomol City Committee of Karaganda, a teacher at the teachers colleges in Semipalatinsk and Alma-Ata.

His first works were in the 30s, a literary work "Features the poetry of Abai" (1934) was the most notable, and a few years in collaboration with E. Ismailov Z. Shashkin made "The educational book on theory of literature" for colleges. Then, a streak of bad luck started in the life of a young writer– he was run over with an asphalt compactor of repressions. Harsh destiny of the member of intellectuals branded as "an enemy of the people" coincides with just the early years. Then he ruined his health and, although he survived into rehabilitation and subsequently did much, but passed away at the peak of his career – at the age of 54.

Since 1956, when he published "The morning" novel sweeping changes have taken place in his life. One after the other he published novels and short stories collections: "Polar Star", "Breath of Life", "Akbota". Somewhat later Zein Shashkin turned to larger forms: novels "Tokash Bokin", "Temirtau", "Doctor Darkhanov", "Trust" all reflected his whole outlook, his "doctorate" philosophy, attitude to life. In these works he reveals complex social processes - class struggle, constructive labor of the people, a place of Kazakh women of a new generation within community, a duty of health professionals and intellectuals in general to society, labor feat of virgin lands conquerors.

Zein Shashkin paid tribute to the theater arts. His plays "So begins the era" and "Heart of the Poet" successfully went on the scenes of national and regional theaters. In his works the feature film "Restless morning" was filmed. The works of Zein Shashkin translated into the languages of the peoples of the USSR.

Venerable writer paid much attention to the youth, working in the Writers' Union of Kazakhstan, which was recalled with great warmth by Myrzatay Zholdasbekov.

Many changes have taken place in the life of the republic, in the first place - the ideology, moral values changed, but the main in the man is humanism, kindness, active position, that is, that was claimed by the doctor-writer, still remains with us.