18-03-2015 14:43 | Decent life for Disabled Persons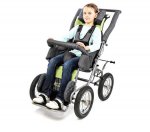 In January of this year, a resident of Semey city has addressed to our Foundation asking for help to buy an expensive wheelchair for her daughter Darina. Unfortunately, the teenager has a serious diagnosis of ICP and congenital defect of a central nervous system.

The girl has already passed one treatment course in China. In order to maintain a stable condition it is necessary for her to have a regular massage, acupuncture and do remedial gymnastics. Besides a specialized wheelchair is required that will ensure the correct position of a back and unload a spine.

Taking into account current improvements in treatment of the girl, "Saby" Fund has complied with the request of her mother and bought Racer Plus wheelchair of Akces-MED (Poland) manufacture that will serve Darina at least 3 years.