QIWI Terminals, Saby Foundation–Pass the Baton of Good
20-05-2015 11:43 | Charitable Campaigns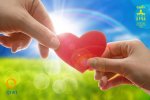 One of the leading payment systems in Kazakhstan QIWI has informed on its official website, that Kazakhstan people has donated for charity over 203 million tenge in 2014 with their 'QIWI Purse'and'QIWI Terminals', having made 78 thousand payments to charity organizations. These numbers are three times higher than in 2013.

Our foundation is also among the organizations, represented in payment terminal interface. We are glad to notice, that Saby account regularly becomes not big but precious donations from QIWI users.

Unfortunately, we don't know you, because the donations are anonymous and we have not the possibility to thank every of you personally. But on our website we keep saying thank you for your cordiality, generosity and your wish to help those in need.

They say: 'Many a little makes a mickle' – every tenge waits for its time on our account, where a big sum is gathered for a help to someone. This time we were asked by the City Rehabilitation Centre for Children in the city of Almaty, where near 800 children with psycho neurological disorders are being treated every year, to buy the necessary stationery for the learning and treatment process.

Many a little makes a mickle. The sum we gathered allowed providing the yearly (!) stationery for nearly one thousand children for painting, molding, writing, handcrafting and applique work.

The kids from the Rehabilitation Centre have made this present, being grateful for your generosity.

Pass the baton of good – find in any terminal QIWI a 'Charity' button and choose Saby Foundation, because our projects are really effective.