Let children be healthy. Final part
02-09-2016 16:38 | Medical Project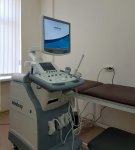 Medical equipment purchased by the "Saby" Foundation for Akmola Regional Hospital No.2, recently delivered by the supplier, and was installed in the maternity department. The employees of the medical establishment have already received training for operating the equipment and started to apply the vital devices in the practice of resuscitation.

According to the hospital management, "... modern medical equipment allows to provide qualified assistance to newborns from the first minutes of their lives, to detect and eliminate the states threatening the lives of young patients, to minimize the development of complications."

Maternity department of the medical establishment is still not fully equipped with resuscitation systems, so a gift made by our charitable foundation is of great importance to provide emergency assistance to children.