School construction in Almaty city. Stages
11-11-2016 18:46 | "Orkendeu" Project » The High-school for 1200 places at the Almaty cit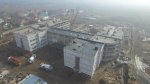 Construction of the "Secondary school designed for 1200 students in Akzhar village of the Nauryzbayskiy District of Almaty city" is 70% complete.

At the beginning of December connection of the heating system is planned in order to complete interior finishing of the building. For such purposes installation of internal and external partition walls, insulating glass units and heaters is currently being performed in all 10 building blocks.

In the process of construction only environment friendly materials produced by local manufacturers are used.