"Saby" Foundation will build a playground in the City of Atyrau
30-11-2016 17:05 | Sport-Health-Achievement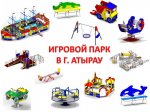 One of the main goals of the "Saby" Charitable Foundation is to create the best possible conditions for raising children. In order to facilitate this Foundation constructs modern high-quality children's playgrounds in various cities of the Republic of Kazakhstan. 35 already commissioned playgrounds and sports facilities allow children to spend time with profit to their health.

In November 2016 a memorandum regarding the construction of the modern children's playground as the part of the "Sports – Health – Achievements" project have been signed by the local administration of the City of Atyrau. Playground shall be constructed in City of Atyrau, at the address Satpayev Street 19.

In May 2017 a huge playground complex with the total area of approximately 2000 square meters, equipped with brand new swings, ropes, carousels, bars, slides, exercise equipment and the integrated zone for children who suffer from muscle-skeleton disorders shall become available to all children and teens of the City of Atyrau.

This project has become unique not only for the City but also for the Foundation itself. This facility has been constructed on the basis of the custom design instead of a standardized one. It is developed in collaboration with the KSIL International Company and has no analogs in the whole country. During the playground design process requirements of all relevant local and international safety standards have been met. Also the rubber coating has been used in order to prevent injuries.

Estimated cost of the project – 70 000 000 tenge.