School Construction in Almaty. Stages
25-01-2017 12:39 | "Orkendeu" Project » The High-school for 1200 places at the Almaty cit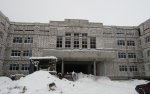 After connecting the central heating at the facility: "General education school for 1200 places in Nauryzbaysky district of Almaty" the finishing works in relation to the finished blocks are carried out at full speed.

In addition, the works on filling the window openings throughout the building are continued, the installation of all the engineering systems for power supply, water supply, sewerage, heating and ventilation is almost completed.

The completion of construction works is planned for spring 2017.

See the construction process here.