22-02-2017 10:33 | The streets of southern capital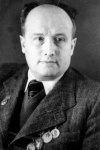 Street named after Y.G. Burisilovsky runs from north to south almost through the center of Tastak microdistrict in Almaly district of Almaty city. It found its present name only in the period of the sovereignty of our country, and until the middle 1990s, this street was named after Lev Rudnev.

Yevgeny Grigorievich Brusilovsky (1905—1981) was the Soviet composer, People's Artist of the Kazakh SSR (1936), Laureate of Stalin Prize of the second degree (1948).

He is an author of the first Kazakh operas and orchestral works. Nine operas, four ballet, nine symphonies and about 500 songs and romances were written by the composer.
He is co-author of the National Anthem's of Kazakhstan music of 1945-1992 and 1992-2006.

In 1931 Yevgeny Grigorievich graduated from the Leningrad Conservatory. He arrived in Alma-Ata with the direction of the USSR Union of Composers in 1933. He succeeded to get quickly into the depths of the Kazakh melodies, to feel them, and, as they say, to express the echo of his creative reading of Kazakh folk music in the sounds of classical music forms.
The life around Brusilovsky became bright and active. Young musically gifted Kazakhs reach out for him. During the lifetime Yevgeny Brusilovsky could be proud not with only solidly written works, but also with pleiad of talented students who have become the classics of the first Kazakh professional music.

The name of Yevgeny Brusilovsky stands among such leading figures of Kazakhstan classical music as Ahmet Zhubanov, Mukan Tulebaev, Latif Hamidi, Yerkegali Rakhmadiyev, Bakhytzhan Baikadamov, Sydyk Mukhamedzhanov.