"Saby" continues to search for talents
12-04-2017 16:56 | Alem – support of young talents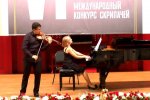 The program for supporting young talents "Alem" continues to search for new talents. In new season, the young violinist from Pavlodar Omar Kuanyshev became the first who attracted attention.

Now Omar is studying at Special Musical Boarding School for gifted children named after K. Bayseitova. He wants to continue his further studies at the Moscow State Tchaikovsky Conservatoire.

The well-known musician Yerkebulan Saparbayev and our permanent expert Renat Gaisin were invited to evaluate the skill of the young musician. Omar, taking the instrument, from the first notes was able to evoke sympathy of a jury and get their positive appraisals, brilliantly performing fast and difficult fragments of famous works. Famous Kazakh musicians after the performance of the young violinist were unanimous in their opinion – he should develop his talent and work on his improvement.

That is why the management of "Saby" foundation decided to accept Omar to the list of participants of "Alem" program and support him in studying at the Moscow State Tchaikovsky Conservatoire. After all, dreams necessarily must come true!