"Build Your Business-2017". More information about the finalists
28-04-2017 14:45 | news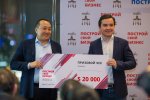 Kazakh language for everyone

Discovery of richness, beauty, purity and depth of the Kazakh language, propagation of the Kazakh language as a literary and moral basis for the Kazakh culture are priority activities of the "Saby" Charitable Foundation since its first days.
Regarding the above, the Foundation founders Kenes Rakishev and Asel Tasmagambetova decided to support the Qazaqstudy project on the creation of an online platform for teaching the Kazakh language.

This project received a grant of $ 20,000 from the Foundation within the framework of annual competition.

"We looked for a long time and found a unique methodology of teaching the Kazakh language made by Canadian linguists specially for the Kazakh language," the project manager Konstantin Orlov said. "We created our own center and managed to teach the Kazakh language to more than 100 customers in the city of Almaty within half a year; all of them were pleasantly surprised with the result."

The grant provided by the "Saby" Foundation will help to create the first online service in the country for teaching the Kazakh language. It will consist of a site where students will be able to study with teachers and a mobile application, with which students will be able to pass tests of the Kazakh language knowledge, choose teachers and later receive homework and information about the material passed.

"Now we can help more people willing to learn the Kazakh language in Kazakhstan and beyond its borders," Kenes Rakishev says traditionally supporting innovative projects. "The online platform will allow connecting Kazakh language speakers to people who do not know it, but want to learn it within one virtual site."

The project developers emphasize that these studies will be cheaper than regular courses due to the fact that they do not require expenditures for premise renting. As a result, they become affordable to more people. In addition, they hope to provide jobs for young teachers with the help of the project.