"Build Your Business-2017". More information about the finalists
12-05-2017 16:38 | news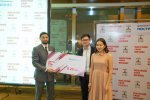 AquaPoint as a source of water for health.

The "Saby" Charitable Foundation headed by Kenes Rakishev and his wife Asel Tasmagambetova provided a grant of $ 20,000 to the AquaPoint startup producing devices to purify ordinary tap water to the drinking water.

The project was proposed by young residents of Almaty Galym Baytimbetov and Aizhan Yesekina. It was also supported by the Nazarbayev University.
"There are very few sources of free clean water in Kazakhstan," Kenes Rakishev said. "We believe that this program will help to solve the problem of drinking water in public places, first of all, educational institutions where the water is drunk by children. Besides, this device is completely produced in Kazakhstan, although it includes the best aspects of the foreign practice."

The AquaPoint device is connected to the usual water supply network. Next, the water passes through three stages of filtration to meet all standards. After that, one can drink it through a drinking fountain or fill a bottle through a special tap. Within a month, one device can supply more than 1,000 people with free clean water preventing the use of tens of thousands plastic bottles and cups. Unlike dispensers, the AquaPoint device pays off within less than one year. With each subsequent year, the device increasingly saves buyer's money, which makes it economically profitable.

The creators of the device believe that AquaPoint will become a source of water for health.

In the photo: the "Saby" Foundation co-founder Kenes Rakishev, creators of the AquaPoint device Galym Baytimbetov and Aizhan Yesekina.