New Year Gifts to our Little Patients
29-12-2010 16:55 | Gifts of the Foundation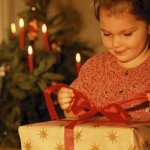 Recently we had a children's matinee at the "Shymbulak" Children's Tuberculosis Sanatorium where the Father Frost gave its numerous gifts to all – two hundred children, without exception.

This event was made possible thanks to numerous efforts of several young Almaty young girls – the great friends of "Saby", who came to us with an idea to congratulate those children from socially unprotected families on these coming New Year holidays.

Without any doubts, we have decided to make New Year Gifts to young patients of "Shymbulak" Sanatorium. The vast majority of children came here for rehabilitation treatment – children from large and incomplete families - children for whom it is a great pleasure to have any present or gift even the little one.

Young girls have transferred a significant amount to the Foundation being enough to purchase not only traditional bags of candy, but wonderful sets of winter accessories (hats, scarves, gloves).

Now the kids are not afraid of being cold, and we say a lot of thanks to our benefactors for doing that!