Views: 283 | 20-09-2010 | news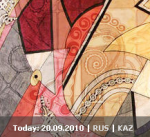 Dear friends! We are glad to inform you that our web-site is published now in the Kazakh and English languages.

That is a small but very important step towards those people who express an interest to our work by visiting our web-site at saby.kz.

Now our guests from the most remote points of the country as well as from the CIS and far-abroad countries will be able to get information about all events of our Foundation, such as new projects, fresh ideas and useful actions, without any language barriers.

Welcome! We are always glad to see you!
more »»