Views: 1025 | 20-10-2010 | news, Alem – support of young talents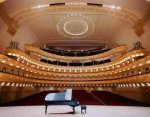 September 2010. Welfare Fund "Saby" has launched its "Alem" Program for searching those children, teenagers, boys and girls being gifted in various spheres and subjects, and giving its regular support in development of their talents.

The first nominee to be supported by the Fund is Zhasulan Sydykov – a nineteen-year student of Kostanay State Pedagogical Institute; Zhasulan has recommended himself as a very talented person: he sings, writes music and makes various music arrangements. After having sent his CV to www.eng.alemsaby.kz, Zhasulan was immediately noted by the Alem Selection Committee consisting of highly-qualified and recognized experts authorized to evaluate skills and abilities of registered participants only.
more »»