Views: 298 | 30-12-2010 | news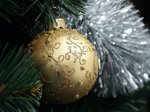 Dear Friends!

The "Saby" Charitable Foundation congratulates you on the coming New Year!

We wish the coming year was successful not only in making good changes in your life, but brought you good luck in all your undertakings.

We also wish your best friends and reliable partners were always nearby to you; and only comfortable and warm environment was around you and your relatives!

We sincerely wish you good health, happiness and love!
more »»