Views: 738 | 16-09-2011 | Save the children's life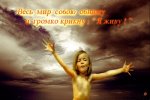 The partnership relations of the Saby Charitable Foundations with the Voluntary Charity Society under the permanent action "Save Children's Life" is continuing.

As of September 15, 2011, 327 children from all regions of Kazakhstan received assistance at the cost of money transferred by citizens of the country. The total amount paid fro surgical operations was 1,968,299 USD. You can review a report of money application at detdom.kz, as complete transparency is the main principle of the Action.
more »»