Views: 892 | 26-09-2011 | Educational project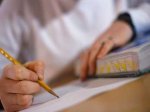 Cooperation of the "Saby" Foundation with an educational center that trained senior pupils from our sponsored orphanages to the Unified National Testing during the last year will continue this year. Graduates, who had attended tutoring courses, showed a very good level of knowledge, and most of them entered the universities by state education grants. Such a result pleased everyone - teachers, our Foundation and, of course, the students themselves.

Management of our Foundation has assessed the positive experience and decided to continue cooperation with tutors. At the same time, children from orphanages of Almaty inspired by the success of elder friends have started visiting the courses.
more »»