Views: 921 | 14-06-2012 | "Orkendeu" Project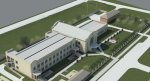 Dear Friends!

We express our cordial gratitude to all the philanthropists who shared their resources and donated money means for the realization of the Project for the erection of a new building for the Child Care Center in Kyzylorda town, under the direction of Saby Foundation.

It will be a double-level modern and comfortable construction with premises, furniture and processing facilities conforming to all construction regulations, with the area of over 1,700 square meters. The general layout includes an external infrastructure: children's pavilions, household and technological constructions and green plantings.
more »»