Views: 835 | 22-06-2012 | Medical Project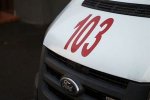 Are you familiar with the situation when in summer heat days, a refrigerator suddenly goes wrong and food products purchased in advance, quickly deteriorate and become uneatable?

The Republican State Enterprise based on Economic Jurisdiction of Semey State Medical University, which unified in its walls the adults and children's regional hospitals, has faced such problem. The failed and unrepairable obsolete refrigeration equipment has become a threat with its disruptions to the functioning of the medical institution, since food poisoning, especially by children whose health is weakened even without that by diseases, may lead to very serious consequences.
more »»