Views: 975 | 27-06-2012 | Our awards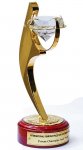 The social and cultural campaign "Nomad's Way", organized this year in February by Saby Foundation, had a goal to introduce Kazakhstan to the world as a young country at the political arena, but with deep historical roots dating back to the ancientry. The cultural heritage of our country, Kazakh masters Zergers being an example of achievements, became a message for the West.

Certainly, this campaign drew attention to the Foundation as well: having carefully examined Saby fundraisers, several foreign organizations proposed to cooperate, that proves a positive evaluation of our activities at the international level.

In support to this fact the European Society for Quality Research – ESQR conferred Saby Foundation with the "International Diamond Prize for Customer Satisfaction 2012" at the award ceremony held in Rome, on June 23-24.
more »»