Views: 847 | 05-07-2012 | Alem – support of young talents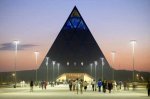 The III International festival of action movies ASTANA held from July 1 to July 3 on the threshold of the Day of the Capital of Kazakhstan is completed. The movie holiday once again gathered the stars of world movie industry: actors, movie directors, workers of culture and men of art, famous producers and potential investors.

The last year's promise of Timur Bekmambetov to annually make the Festival more unique and interesting embodying a variety of ideas and plans is fulfilled. Among the guests there were noticed: a French actor Vincent Cassel, well-known producers and script writers Jim Lemli, Kang Je Gu, Kevin Reynolds, popular Russian actors Vladimir Menshov, Yelizaveta Boyarskaya, Galina Konshina, Arkadiy Ukupnik and "Z.Dance" team.
more »»