Views: 1446 | 22-10-2012 | Alem – support of young talents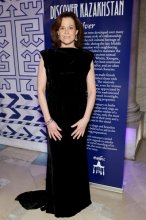 Ernest Hemingway said: "The person subduing his spirit is stronger the one conquering cities".

How hard it was not to tell, not to divulge to the whole world about the event which by its scale has all reasons to become a 2012 event and even not Kazakhstan but Kazakhstan-American. But the founder and president of Saby Charitable Foundation Aselle Tasmagambetova always makes a continuous pause between a fact occurred and its lighting, in order to confidently tell about them after having been reassured by results.

The effect from the social and cultural campaign Nomad's Way, which took place from February 13 to February 17, 2012 in New York and whose ideological father, organizer and sponsor was Saby Foundation, is already clear and we can proudly tell about it.

Nomad's Way

During triumphal 2012 Olympic Games, the World Wide Web burst with numerous search requests for the word "Kazakhstan". The West knows little about our country associating it, first of all, with a vast territory, oil and gas. But besides mineral resources and virgin corners of wild nature, we have other things to present to the world. Our country is unique. It is young, being independent for only 20 years but, at the same time, the art of Kazakh ancestors has a deep history. Not every modern person from Kazakhstan knows this part of national ethnos, let alone overseas connoisseurs.

Saby Foundation set a goal to present to the world a rich historic heritage and uniqueness of Kazakhstan, to show the possibility of successful integration of the East and West by the example of our country, where paths of many civilizations, which made possible the cultural cross-fertilization of peoples and nations, mingled in complex interlacement.
more »»