Views: 710 | 04-07-2013 | Sport-Health-Achievement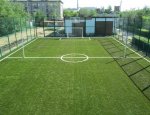 One month hardly had passed when Saby Foundation reported about the completion of sports ground construction in Boarding School No. 8, Semei city. The foster children of Boarding school No. 4 for deaf children of this eastern city received analogical present.

Sport and health are inseparable, this is an invariable truth, that is why, what is gladdened especially is the fact that children with health problems not only refuse from trainings but have significant successes in playing sport games. We noticed that the main love of young Semei residents is football. Competitions between teams from different social institutions are held in the territory of boarding school. Young football players gathered from the whole city to demonstrate their skills.
more »»