Views: 726 | 10-07-2013 | Decent life for Disabled Persons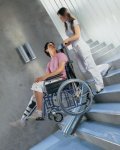 A staircase is an insuperable obstacle for a human being who has to move around in a wheelchair if there is nobody near the elevator, ramp or no physically fit accompanying person to help.

And though modern regulatory documents stipulate arrangement of elevators for wheelchair-dependent people in multi-storey buildings, in fact, they are limited to useless ramps which are raised only up to the first floor.

Practically, the only one alternative here is mobile special purpose elevators which ensure safe travel of wheelchair-dependent people up and down the staircase. But a big disadvantage of such step climbing devices is their high price - around US$ 8,000 per unit, which is, of course, too expensive for the majority of physically challenged people.

more »»