Views: 739 | 25-07-2013 | Decent life for Disabled Persons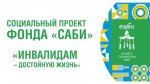 We want to inform you that the part of "invataxi" cars, purchased by Saby Foundation within the framework of "Decent Life for Disabled People" project, have been delivered in Almaty. It is 5 out of 10 new Volkswagen cars, which have been equipped taking into account people needs, who use wheelchairs.

Usually, it is necessary to expect each lot of cars, supplied from factory of Germany, during 6 months. This delivery turned out to be a little faster. Presently, cars are on customs clearance and pre-sales preparation.
more »»