Views: 828 | 23-09-2013 | Sport-Health-Achievement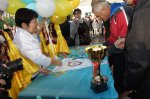 The opening of multifunctional sport ground, built on account of Saby Charitable Foundation in the territory of boarding school No. 4 for children with ear problems in Semei city on the 20th of September, turned into a real holiday. The present event was included into the city program of 100-anniversary celebration of Kazakhstan football, with a view of which the city was overtaken with football ethereal during 3 days.

Fosterlings of the boarding school tested the new sport ground already before its official opening and stayed very happy. Young sportsmen liked the modern cover "artificial grass", which is not hazardous as asphalt and does not kick up dust as ground. And indeed, it is nicely to glance at the ground transformed beyond recognition.
more »»