Views: 683 | 18-08-2014 | History of success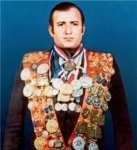 Shavarsh Vladimirovich Karapetyan is the Soviet Underwater Swimming sportsman, 11 time world record-holder, 17 time world champion, 13 time European champion, seven time champion of the USSR, Honored Master of Sports of the USSR. The Honorary President of the Russian Underwater Swimming Association. Awarded the 'Order of the Badge of Honor' and also awarded by International Olympic Committee for 'Fair Play'.

Biography is presented in the Russian language

Карапетян родился 19 мая 1953 года в городе Ванадзор. В 1964 году вместе со своей семьёй переехал в Ереван, где окончил 8 классов средней школы и автомеханический техникум. В 1975—1976 годах проходил военную службу в одной из частей Бакинского округа ПВО. В 1991 году переехал в Москву.

6 октября 2013 года в Москве Шаварш Карапетян в первой пятёрке принял участие в эстафете олимпийского огня Сочи-2014. Когда по неизвестной причине огонь погас, Карапетяну повторно была доверена честь пробежать один из этапов эстафеты олимпийского огня.
more »»