Views: 668 | 08-10-2014 | Alem – support of young talents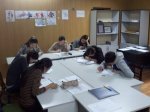 This August Saby Charitable Foundation has announced the selection of pupils of 7- 8 forms for intensive mathematical courses within the framework of the "Alem" Young Talents Support Program. The results of the selective testing have been declared recently, the winners of which became 10 candidates who received the maximal points.

There were many pupils who desired to try their strength, that is why they were divided into two groups with the aim to check intensively the preparation of each child, the ability to solve mathematical problems and to think logically.

Unfortunately, such contests are held rarely. And, perhaps, for the first time in Kazakhstan the financing of education and methodical materials expenses for 5 years (!) has fully defrayed the charitable foundation.

We publish the names of 10 lucky persons, whose first task will become the serious education in mathematics for further entrance the most prestigious technical universities.
more »»