Views: 902 | 15-10-2014 | The streets of southern capital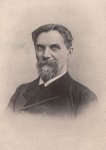 Timiryazev street was formed in 60-70s in Almaty, is situated in Bostandikskyi District, runs from East to West, from Zheltoksan street to Zhandosov street, crosses Baytursynov street, Auezov, Zharokov, Gagarin Avenue, Radostovsta (old name – Maurice Thorez) and Rozybakiyev street.

Kliment Arkadiyevich Timiryazev(1843 – 1920)

The street is named in honor of the Russian Natural scientist, the founder of the Soviet school of Phytophysiology, the modern Photosynthesis theory of Timiryazev Kliment. The main botanical garden of Institute of Botany of the Kazakhstan Academy of Science, which gives it a unique appearance situated in it.
more »»