Views: 481 | 22-10-2014 | Educational project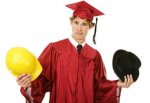 During 4 years Saby Charitable Foundation in the framework of its Educational Project organizes and finances testing of vocational guidance of the high school pupils living in orphanages in Almaty and Almaty region.

Tests are held every six months in a specialized training center. A program developed by professors from M.V. Lomonosov Moscow State University allows fairly and accurately to recommend a specialty or more specialties to choose from, with which the subject will be able to achieve the greatest success in the future and which best fit his/her abilities and talents.

Of course in the age of electronic technology each PC user can test his/her inclinations by the means of a wide variety of tests and questionnaires offered by online resources. But not all of these questionnaires are prepared by experts and are of practical use.

Our Foundation is in contact with professionals in the field. It has been tested more than 450 pupils within 4 years of joint working. Among them 65-70% of children successfully enrolled in vocational and higher education institutions on the specialties that they have been recommended by the experts on the basis of the analysis of obtained results.
more »»