Views: 814 | 29-10-2014 | Wisdom of the Great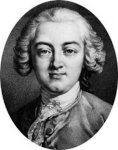 Claude Adrien Helvétius (1715-1771) was a French writer and philosopher, one of the ideologues of the age of Enlightenment. The main its task Helvétius saw to convince legislators that genius, virtue and talents are the result of education, which depends on the laws and forms of Government.

A courage reaps only those laurels, which grow in the midst of the disaster.

A person who is not familiar with the horsemanship, does not set about directing how to break the horses. But in the morality we are less distrustful. Here we always consider ourselves to be knowledgeable and able to give advice to all people.

All shallow people aspire constantly to blemish the people a thorough and broad mind.

But there is no mind without ideas.
more »»