Views: 401 | 07-11-2014 | Alem – support of young talents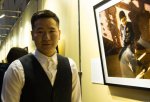 This week a social photo exhibition 'I have the right to ...' is held in the Central State Museum. This exhibition is intended to raise awareness of the Kazakh public about the problem of children with autism spectrum disorders (ASD).

Photos for the exposition were made by our 'Alem' participant Kanat Beysekeyev, who was awarded by an international grant of 'Saby' Foundation in the framework of 'Alem' Young Talents Support Program last year to take a one-year course at New York Film Academy majoring in 'Photography'.

And at present Kanat fufils a serious social order. The organizers are confident that visitors will not remain indifferent to his sincere and keen work.
more »»